Cloud Database
Edit
===What is it?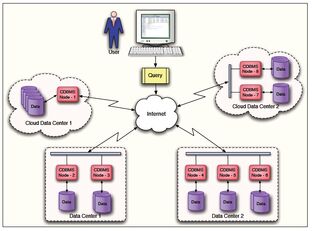 Cloud applicationsEdit
Cloud applications connect to a database that is being run on the cloud and have varying degrees of efficiency. Some are manually configured, some are preconfigured, and some are native. Native cloud databases are traditionally better equipped and more stable that those that are modified to adapt to the cloud.
Key CharacteristicsEdit
On-demand self-service - user can manage computing capabilities without human interaction from the service's provider
Ubiquitous network access - access is promoted throught the use of many different technology devices
Location independent resource pooling - the provider's computing resources are pooled to serve all consumers with different resources assigend according to the user's demand
Rapid elasticity - capabilities available for rent can be rapidly scaled up or down so that the consumer can purchase any amount at any time
Pay per use - examples are measuring the storage, bandwidth, and computing resources consumed and then charging for the number of active user accounts per month
Deployment Models:Edit
Private cloud - The cloud infrastructure is owned or leased by a single organization and is operated solely for that organization
Community cloud - The cloud infrastructure is shared by several organizations and supports a specific community that has shared concerns
Public cloud - The cloud infrastructure is owned by an organization selling cloud services to the general public or to a large industry group
Hybrid cloud - A combination of two or more clouds that remain unique entities but are bound together by standardized or proprietary technology that enables data and application portability
Should you use it?Edit
Advantages of using a Cloud database include:
Fast automated recovery from failures
Either built-in to a larger package with nothing to configure, or comes with a straightforward GUI-based configuration
Managed backups, restores, and automated scheduling
Does not require any operating system knowledge
Automated on-the-go scaling with the ability to simply define the scaling rules or manually adjust
Potentially lower cost
Device independence
Better performance
Scalability
Automatic failover/high availability
Widely accessible
Minimal outllay investment
You can provision a few servers in the cloud immediately, don't have to wait a few days for shipping, don't have to spend time setting up the environment
Excellent choice for those with space considerations
May be able to pay little or nothing for unused time
Disadvantages of using a Cloud databases include:
Security and privacy issues
Requires a constant Internet connection
Loss of control over resources
Data ownership: Who owns the data? Where is it? Who will accept the risk for compromised data?
Data is tied to the provider
Requires staff that has specialized skill set
Hello
No proven track record yet
References
Edit
http://www.databasejournal.com/features/mssql/should-you-move-your-mysql-database-to-the-cloud.html
http://tek-tips.nethawk.net/blog/defining-cloud-computings-key-characteristics-deployment-and-delivery-types
http://www.thevirtualcircle.com/wp-content/uploads/downloads/2011/04/TheCloudDatabase.pdf
Ad blocker interference detected!
Wikia is a free-to-use site that makes money from advertising. We have a modified experience for viewers using ad blockers

Wikia is not accessible if you've made further modifications. Remove the custom ad blocker rule(s) and the page will load as expected.